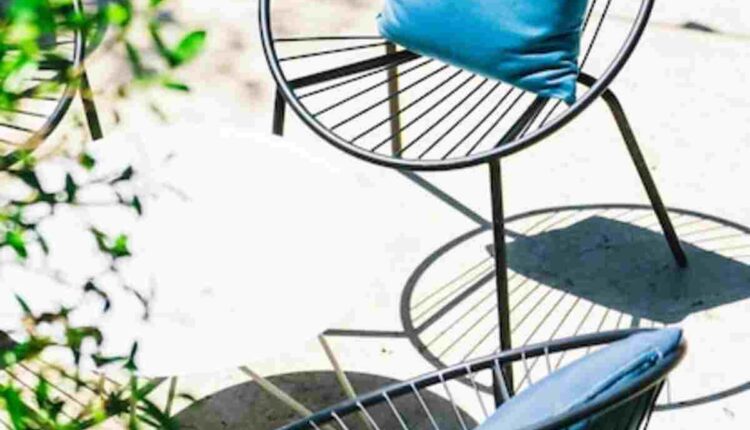 A Guide To Patio Seating Furniture: Types, Features, Buying Tips
One way to enhance your outdoor living area is by adding comfortable and stylish patio seating furniture. This article will explore the different types of patio seating furniture available, like outdoor chairs, lounges, etc, their features, and how to choose the best one for your needs.
Types of Patio Seating Furniture
When it comes to patio seating furniture, there are various options. From chairs to benches to sofas, there is something for everyone's taste and style.
Chairs: Patio chairs are popular for outdoor seating because they are versatile and fit into any outdoor space. From classic Adirondack chairs to modern metal designs, there are endless options. Chairs with cushions or padding provide extra comfort for extended sitting periods.
Benches: Benches are an excellent choice for those who want to accommodate more guests in their outdoor space. They come in various styles, including classic wooden benches and sleek metal designs. Some benches even have built-in storage to keep outdoor items organized and out of sight.
Sofas: For those who want a more comfortable seating option, outdoor sofas are the way to go. Outdoor sofas come in various sizes, from small loveseats to large sectionals, making them an excellent option for entertaining guests. Many outdoor sofas come with cushions or pillows for added comfort.
Features to Look for in Patio Seating Furniture
When shopping for patio seating furniture, there are several features to consider to ensure you get the best value for your money. Here are some features to keep in mind:
Durability: Since patio seating furniture is exposed to the elements, it is essential to choose furniture that is durable and can withstand rain, wind, and sun. Look for rust-resistant materials that are easy to clean, such as powder-coated metal, teak wood, or all-weather wicker.
Comfort: Outdoor furniture should be comfortable enough to enjoy for long periods. Look for furniture with plush cushions, supportive frames, and ergonomic designs. Try sitting on the furniture before buying it to ensure it is comfortable.
Style: Patio seating furniture comes in various styles, from classic to modern. Choose a style that complements the existing design of your outdoor space.
Size: Consider the size of your outdoor space and choose furniture that fits well. Oversized furniture can overwhelm a small patio, while small furniture can look out of place in an ample outdoor space.
How to Choose the Best Patio Seating Furniture
Choosing the best patio seating furniture can be overwhelming, but following these tips can help make the process easier:
Determine your needs: Consider how you plan to use your outdoor space and choose furniture that meets those needs. For example, if you plan to entertain guests often, choose furniture accommodating a large group.
Research materials: Different materials have different advantages and disadvantages. Research the materials used in patio seating furniture to choose the best option.
Check reviews: Read reviews from other customers who have purchased the same furniture to understand its quality and durability.
Consider maintenance: Outdoor furniture requires maintenance to keep it looking its best. Consider the maintenance required for each type of furniture before making a purchase.
Summing Up
Adding patio seating furniture to your outdoor space is a great way to create a comfortable and stylish area for relaxing and entertaining. There are plenty of options, whether you prefer outdoor chairs, benches, or sofas. When shopping for patio seating furniture, consider its durability, comfort, style, and size to ensure it meets your needs. Following these tips, you can choose and enjoy the best patio seating furniture for your outdoor space for years.
In addition to the tips mentioned above, it is also essential to consider the overall design of your outdoor space. Choosing patio seating furniture that complements your outdoor area's design and color scheme can create a cohesive look and enhance the overall ambiance.
Read Also: Cabinetry and Millwork: Poor Design or Poor Workmanship? Who Is to Blame?